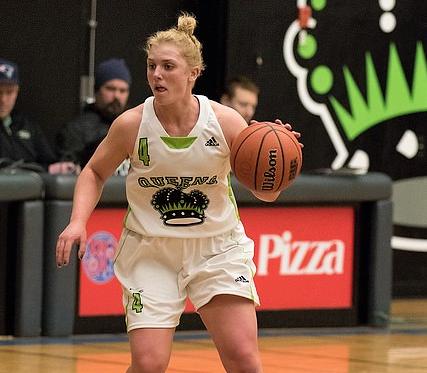 Friday in Saskatchewan, the Red Deer College Queens Basketball team hit the court to face the Briercrest College Clippers. The Queens have played well against some of the top ACAC teams and were looking to carry that over tonight. RDC outscored Briercrest College in 3-of-4 quarters and won 68-57.
RDC started strongly on the road and led 17-9 after the 1st quarter.
The Queens' momentum continued in the 2nd quarter and outscored the Clippers 17-13. At the half, the RDC Queens led 34-22.
The 3rd quarter was close. The Clippers scored 17 while the Queens responded with 15. RDC held a 49-39 lead heading into the final quarter.
The Queens outscored the Clippers 19-18 in the final quarter and picked up an important 68-57 road victory.
Emily White led the way for RDC with 24 points. As a team, the Queens shot 71.4% from the free throw line.
Queens Head Coach Ken King praised the Management Certificate student.
"Emily was lights out tonight with 24 points," said King. "She was 10-of-13 from the field, had 12 rebounds, 4 blocks, 2 assists and 1 steal."
King was happy with the 1st half and noted the importance of getting every student-athlete involved.
"We played well in the 1st half but then allowed them to stay close," said King. "Everyone played which is good in a short week to make sure that we stay rested going into next week. Madison Nimmo, from Hunting Hills High School, played her 1st large minutes of the season and picked up 5 points."
With the victory, the Queens (6-10) improve to 12 points and trail the final playoff position by only 4 points. SAIT (8-6) and Medicine Hat College (8-6) share 3rd place and have 16 points in the South Division.
The same teams hit the hardwood Saturday at 1:00 p.m. in Saskatchewan.